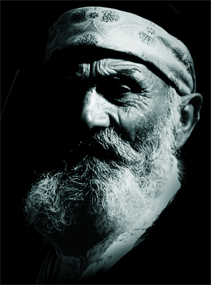 For the Project (called Progenia for the Sardinian public), this poster shows one of the participants , who lived to over 100 through a vigorous old age

Welcome to SardiNIA Project
Finding longevity genes is only one of many goals for gerontologists. An equally important mission is unraveling the genetic processes involved in age-related traits and diseases. NIA and Italian investigators are focusing their attention on the Mediterranean island of Sardinia. Why? We quote directly from the rationale and background for the initiation of the study in 2001, which also apply to follow-up studies in the course of the Project:
To identify genetic bases for prominent age-associated changes, including cardiovascular risk factors and determinants of personality traits, in a founder population. The results of the study will extend the studies of aging-associated conditions of outbred populations.
Recent reports form the Baltimore Longitudinal Study on Aging (BLSA) and other population studies have identified some epidemiological and genetic risk factors for aging-associated diseases; but the majority of studies have been observational, determining the range of values for a phenotype as a function of aging. Further examination of the genetics of aging-associated conditions such as cardiovascular and personality-related features is especially difficult because 1) they are 'late-onset' conditions, affecting older individuals; and 2) they are 'complex traits', with a number of genes individually tipping the balance toward a phenotype in one or another subgroup of an outbred population
As one way to help overcome these obstacles, attention has increasingly focused on the promise of 'founder populations' for the simplification of complex trait analysis. Such rare populations arise from a delimited group living in a defined region for many centuries with minimal admixture from outside populations. The Sardinian population is one of the few that is both numerous and accessible enough, and one of the most extreme in its relative homogeneity. It can thus be studied for a wide variety of both frequent and relatively rare traits. The targeted region for the present study, Ogliastra, has a particularly isolated population of 60,000, in an area enclosed by two mountain ranges and the sea.
The proposed study will test critically the notion that such a population can indeed help to analyze the complex vascular and personality traits proposed for the study.
Concerning the choice and progress of the Project:
Constant environment (in rural towns)
High level of altruism and interest in sharing genetic patrimony
Support of the local Bishop, Mayors, and Health Authorities
Local clinic location that facilitates rapid and repeated visits: e.g., 3,500 were recalled in 1 year for fractionation of white cells into 95 subtypes within 90 min of blood draw.
Structures of more than 750 families embedded in a large cohort of individuals, permitting
Accurate estimates of genetic heritability.
Lower cost sequencing and genotyping coverage: 2,000 sequenced individuals yield the imputed DNA sequence for 7,000 in the cohort.
Reliable detection of true DNA sequence rare variants in individuals vs. background sequencing errors by checking DNA sequence of relatives.
Assessment of diagnostic/prognostic strength of genetic factors in a longitudinal study with medical outcomes.
Analysis of mitochondrial variation and its transmission.
Straightforward formulation and testing of imputation algorithms.
Easier discovery of interactions of traits, including pleiotropy.